Whether you're fresh out of undergrad , an aspiring worker who is seeking an extensive knowledge about the business ambit or simply curious about the exigencies of the local business market , the following question might have ultimately popped up in your head : " is a local business master's degree worth it ? ".
Answering the question however , might seem even more perplexing than it sounds , due to the unstable economic status of the country and the hurdles faced by the national High degree holders in the job market .Many assumptions and skeptics that have not been yet clarified are continuously dipping our graduates in a pan of uncertainty and doubt . Therefore , the time is ripe to walk the talk and discuss the matter : Is a business master's degree worth the costs , energy , time or postponing the working experience a little bit further ?

Unlike the blurity the question has caused , my answer would go straight and straightforward : Yes , a master's degree, whether taught or research , has its fruits .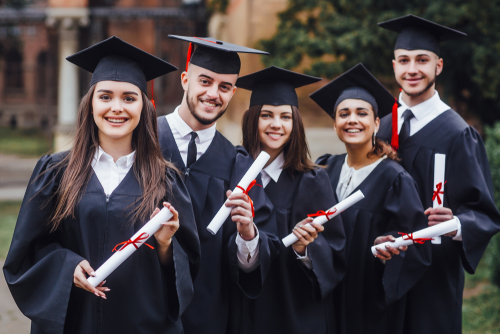 An adaptation to the wants of the local job market:

Obviously,unemployment rates in the rows of masters and PhD holders are drastically rising, with an unemployment rate of nearly 27 percent among people with a higher education degree in 2019. , but the reasons are beyond mere employment unavailability or lack of private investments . Jean-Luc Bernasconi., the chief economist at the World Bank office in Tunisia, claims that the added value of economic activities in Tunisia (industry, agriculture etc ) is "weak and frail , therefore the demand for it is limited to simple and low-paid labour.", concluding that the high degree holders' unemployment rates are mainly related to the sectors with low added value.
High value added activities are , infact , activities that improve the value of products or services to customers like processing customer orders , designing and delivering . With that being said , business related activities are currently the oilfield that provides solid job opportunities in the private sector for university graduates. So if you are intending to pursue degrees in the business field , you are relatively safe from this freaked unemployment wave among high degree holders .

A response to nowadays business working criterias :

But wait , this is actually under no circumstances an utter good sign . The challenges faced by businesses and their leaders are already pretty obvious : from maintaining quality customer relationships ,meeting customer needs , digital mitigation and maintaining the stamina and flexibility to face the uncertainty of the future.in a third world economy like Tunisia's . With that being said , employers ,amid the big numbers of applicants , look for those who are innovative, adaptive and very engaged with the industry. All of these are precisely the type of skills developed during postgraduate studies .The reason settles in the genre of education a business master's degree provides that is , undoubtedly , way different from undergraduate education.
As you get more specialized in the matter , you get to absorb better the needs of your current field and its general status , unlike mere theoretical facts thrown here and there with no actual professional depths or reflection on the status quo , especially that undergraduate students highly acknowledge that the education they are receiving are still obeying to theoretical restrictions put without adaptations to the century's needs . Therefore , holding a master's degree in business will be represented for the employers as a graduate profile who is capable of tackling the problems that businesses and industry will face in the future, and not just those they have faced in the past.

A plethora of choices :
you've probably worked for companies and found out that this is not really what you're aiming to pursue for the upcoming years of your life , finding the job finite and restricted ,then a business related master's degree might open a plethora of wider horizons ahead of you .After getting your degree , you will be capable of choosing between working for companies or continuing in academia or research and going on to study for a PhD locally or in higher ranked world universities abroad.as your specialized field of thesis will give you a deeper insight on what type of careers you want to progress in . Better still , owing to the specialist knowledge you are getting , you are more likely to apply for more senior positions and show your expertise compared to other candidates without a masters in business , therefore taking your CV to the next level.In a nutshell , your business masters will allow you to comfortably choose between applying for senior positions , accessing to better academic postgraduate education from reputed professors or maximizing your chances into earning additional income in your current work .


Specializing in a domain has always proved to help you become more competitive in your field, therefore enhancing your industry expertise and credibility. That's why masters are highly regarded by employers from all over the world . A marketing -centered MSc, or a master's degree in finances, business administration, human resource management, finances or business analytics, your chances might get maximized both in enhancing your career prospects or in the mere adaptation to the current pandemonium of the economic national and international status.
Yet , it is worth mentioning that this is not the absolute key for your business related success and that finding your spark will mainly depend on your stamina , persona and practical experience . You just have to weigh your options carefully to know what suits your path the best and perhaps , you will find it more fruitful to apply the money you are getting from your current job to certification programs instead.


references:
7 benefits of studying a masters degree
Noon post